1 on 1 Keto Coaching
Regulate your period.
Stick to it this time.
Heal hormones.
Understand your body.
Maintain energy throughout the day.
Lose the weight.
Focus on real foods (and actually wanna eat them).
Achieve balance and what that means... for you.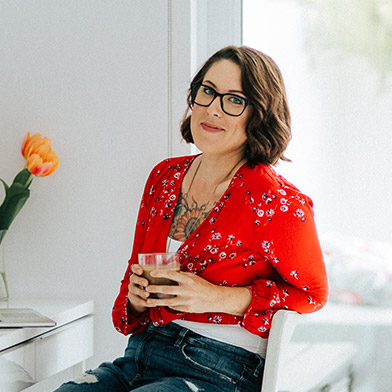 Keto may not be for you. There, I said it.
But, what is for you is taking care of your body.
And, understanding your body.
Ultimately? Your body is your responsibility. And, my passion is in assisting women to take on that responsibility so that they can show up more powerfully in their lives. To be of service to their purpose in life, with clarity and confidence.
I'm Leanne Vogel and I do keto a little differently. The ketogenic diet is less so a diet, and more of a metabolic state. Taking the focus off the ketones, and on to the body, what's happening inside, is the best way I know how to actually help women take charge of their health - hormones, fertility, weight, blood sugar, and inflammation.
If you end up registering ketones, awesome. If we're guided by your body to go a different route, that's cool, too.
There are oodles of programs, details, how-tos, and guides out there that tell you what to do with your body. But, very little instruction about how to be with your body.
Our goal post in working together is to guide you to understand your body, so that you never get confused again. So that you never feel lost again. So that you never feel out of control again.
You'll have the clarity to understand what your body needs, and then do that thing.
What You Will Get with 1on1 Keto Coaching
VIDEO CALLS
We will commit to 2 months of work together with 60 minute calls every week (total of 8 calls).
STRUCTURE
Weekly check ins and goal assessments will keep us on track and honest with progress.
DEPTH OF SUPPORT
Unlimited email support through the duration of our time together.
The Application Process
Not everyone is suited to work with everyone. And, this goes for keto coaching, too. I have 6 years' experience as a keto coach… but that may not mean that my experience translates well to your needs.
The application process allows us to decide if we're a good match.
After you've applied, if I feel like we may be a good match, we meet for a complimentary 15 minute goal & expectation phone call.
If my calendar is fully booked; I only work with 3 clients at a time, I will reach out to you and let you know that you're on the waitlist.
I am looking forward to connecting with you ❤️
Apply
Investment
$2,700 USD
*Optional blood work, testing, or recommended supplements are completely optional and whose costs would be in addition to the program itself.