1 on 1 Keto Coaching
Regulate your period.
Stick to it this time.
Heal hormones.
Understand your body.
Maintain energy throughout the day.
Lose the weight.
Focus on real foods (and actually wanna eat them).
Achieve balance and what that means... for you.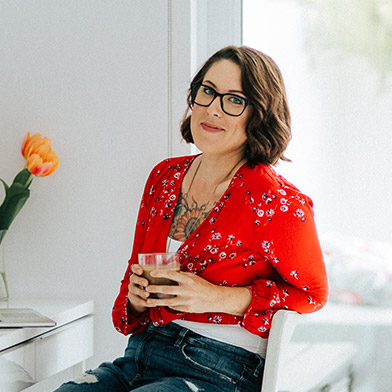 Keto may not be for you. There, I said it.
But, what is for you is taking care of your body.
And, understanding your body.
Ultimately? Your body is your responsibility. And, my passion is in assisting women to take on that responsibility so that they can show up more powerfully in their lives. To be of service to their purpose in life, with clarity and confidence.
I'm Leanne Vogel and I do keto a little differently. The ketogenic diet is less so a diet, and more of a metabolic state. Taking the focus off the ketones, and on to the body, what's happening inside, is the best way I know how to actually help women take charge of their health - hormones, fertility, weight, blood sugar, and inflammation.
If you end up registering ketones, awesome. If we're guided by your body to go a different route, that's cool, too.
There are oodles of programs, details, how-tos, and guides out there that tell you what to do with your body. But, very little instruction about how to be with your body.
Our goal post in working together is to guide you to understand your body, so that you never get confused again. So that you never feel lost again. So that you never feel out of control again.
You'll have the clarity to understand what your body needs, and then do that thing.
What You Will Get with 1on1 Keto Coaching
VIDEO CALLS
Receive one 1-hour consult and two 30-minute check-ins (total of 3 calls over 1-month). Calls are recorded so you can go back to them any time.
STRUCTURE
Weekly check ins and goal assessments will keep us on track and honest with progress.
DEPTH OF SUPPORT
Ongoing unlimited email support and monthly 30-minute phone calls for the duration of our time together.
The Timeline
Reserve your spot.
I will reach out to you with options for a start date in the next 2 weeks.
Fill out client assessment form.
You'll be guided to provide any additional documents which may be helpful.
Start our first month.
Includes one 1-hour consult and two 30-minute check-ins, all done over video and recorded.
Begin our second month + beyond.
Each month is complete with unlimited email support + one 30-minute check-in over the phone and recorded.
All slots are full
Please leave your name and email address to be notified when slots open up.
Investment
$500 for the first month
$200 for each following month
This is a subscription offering. The initial fee is required to save your spot. Then, $200 is charged to your method of choice each month following. A minimum 3-month commitment is required.
I am looking forward to connecting with you ❤️
Work with Leanne
Work with Leanne
*Optional blood work, testing, or recommended supplements are completely optional and whose costs would be in addition to the program itself.
Common Questions
When are the calls?
How does it work? Once you've reserved your spot, I will reach out to you with options/times available for sessions. The session availability ranges from mornings, afternoons, and evenings, Monday to Friday. Once we've booked our sessions, we will begin to have our video calls. They will be recorded, so if there's something you missed, you can go back to the video afterward. All calls will be over Zoom.
Can I get a refund after purchase?
As soon as you've made the purchase and we've carved out time in our calendars for our meetings, you will not be able to request a refund. However, if you purchase and before we've booked our first call, you decide it's not for you, then you can request for a refund, and we will honor it.
I'm not sure this is right for me...
No worries! Send us a message and we'll chat with you about options and ideas before you commit.